Serena sent in for her tadpole, and it came just in time to start our new week! The tadpole is a special one you can see through, it grew it's back legs the first day here, it has been so much fun for the kids to watch and document! Uncle Milton - Planet Frog
I found

this great tutorial

and decided to make them, with Cody's help. It was a great inexpensive way to introduce sewing to the boys! The kids unravel the string from the clothes pin, push the needle through one of the holes and continue "sewing."
Anthony tried it out a couple times, and really enjoyed it.
This is what it looks like stored on the shelf.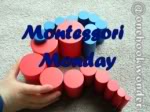 Labels: Bubbles, DIY, Montessori, Montessori 6-12, Ocean, School