For our February sensory bin I choose to go along with the Valentines theme. I am still alternating it with our Winter Sensory bin.
-Valentines Garland with hearts
-Red Star Christmas Ornaments
-Textured Hearts on Sticks
Ethan took the garland out right away and decorated the room for us!
I also added the hearts on sticks for the kids to play with in the bin.
Linking up with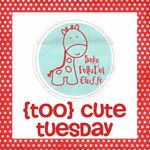 Labels: Sensory Bins, Valentines