Beginning yesterday, 25+ members of the Schoolhouse Review Crew started getting prepared for the Thanksgiving and Christmas holidays with a 5 days of Preparing for the Holidays Blog Hop, and we would love for YOU to come and join us for the fun!!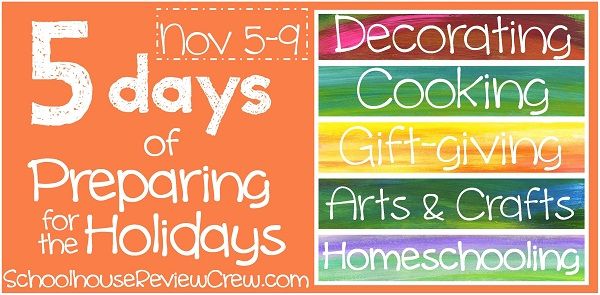 Monday: Decorating- Share your ideas for how you decorate your home for the holidays.
Tuesday: Cooking- Do you have a special menu, recipes handed down for generations, or a day you spend just baking?
Wednesday: Gift-Giving- What are traditions for giving gifts? Are they home made? Maybe you have some great shopping tips to share!
Thursday: Arts & Crafts- Thanksgiving and Christmas lend themselves to some terrific craft ideas. Tell us yours!
Friday: Homeschooling- How do you handle homeschooling during the holidays? Do you have specific lessons you teach?

I am planning on participating on:
Tuesday: to share a couple of our favorite recipes for the holidays including our sweet potatoe casserole, and chocolate e clair desert.
Wednesday: to share different homemade gift ideas from my Pinterest board for Christmas.
Thursday: to share Arts and Crafts we have done for the holidays.
Friday: to share how we handle homeschool and what our homeschool looks like during the holidays.

The Holidays are a wonderful time for our family to spend lots of time in the kitchen, there is just something about the wonderful smell of food baking in the oven on a cold winter day that makes it feel like the holidays! I will admit that the holidays do mean everyone eating lots of things we don't normally eat, but I guess that's the joy in the Holiday's letting go once a year!

For Thanksgiving we have a meal with family. Everyone brings a dish to pass, and we enjoy a day being spent with our family! Even the littlest ones love the Thanksgiving meal :)




The little ones love being able to spend time with their cousins and even get their own special kids table!


And yes, all dogs know right where the best place to sit during Thanksgiving dinner is!






And yes, by the time cookies are all cut out most of the kids have flour everywhere on them and the dining room! But look at that smile, it is priceless!




Even the littlest ones help out.




Last year we took the easy route and purchased pre-made holiday cookies for the kids to frost and decorate because we didn't have time to make our own.

Letting the kids have an assortment of items to decorate their cookies with makes it even more fun!






It's interesting as the years go by they work harder and harder at perfecting making beautiful holiday cookies.


Taste testing is the best part of making cookies. The knife was only used on his cookie :)






Serena enjoyed making some cookies using a cookie press one year.




I am sharing 2 of our favorite recipes for Thanksgiving and Christmas dishes. Sweet Potato Casserole, and Chocolate E Clair Desert, both are much loved and dishes that come home empty, enjoy!




1 box graham crackers

2 large boxes french vanilla instant pudding

4 cups milk

1 tub cool whip

1 tub of chocolate frosting
Mix pudding up according to directions, mix the tub of cool whip into the pudding, set mixture aside.
Layer 9x13 pan with graham crackers, spread 1/3 of the pudding mixture on top of the graham crackers,
layer graham crackers on top of the pudding mixture, spread 1/3 of the pudding mixture on top of the graham crackers.
Layer graham crackers on top of the pudding mixture, pour remaining pudding mixture on top of the graham crackers.
Later graham crackers on top of the pudding mixture.
Warm up tub of frosting in the microwave for approximately 45 seconds, or until frosting can be poured.
Pour chocolate frosting over the top of the graham crackers.
Let sit in fridge for 48 hours before serving.
This recipe make approximately 8 servings. For our family we double the recipe to make sure we have enough for everyone.
5 sweet potatoes, sliced
1/4 cup margarine
1/2 cup packed brown sugar
3 tablespoons orange juice
1 pinch ground cinnamon
1 (10.5 ounce) Package miniature marshmallows
84 pages and 28 recipes including three fully planned menus

Foolproof step by step method to planning your

Thanksgiving

menu

Budget

Traditional Turkey Menu complete with super easy cranberry sauce and stuffings

Prepare ahead Turkey Lasagna Menu

Complete Vegetarian Menu

All your favorite desserts – Apple Pie (it's Daina's special recipe!), Pecan Pie, Pumpkin Pie and more

Family tested recipes for using up your leftovers

Heaps of worksheets to help you with your planning

Help planning your

budget

and

budget

planning workshop

Menu planning and shopping list worksheets

Pot luck planner worksheet

Guest list planner and tracker worksheet

Thanksgiving

task planner worksheet


I am linking up to these linky parties!!

Labels: 5 Days of Preparing for the Holidays Blog Hop, Christmas, Holidays, Schoolhouse Review Crew, Thanksgiving